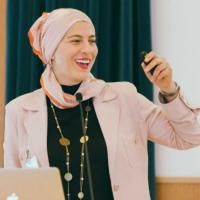 Zeina Nazer
Co-Founder Cities Forum & Researcher
,
University of Southampton
United Kingdom
Zeina Nazer has over 20 years' of global experience in strategy, consulting, M&A support, research, and platform development at firms including KPMG, Parsons, Jacobs and AECOM.
As a leading Advisor for governments and major global players in Intelligent Mobility, Sustainable Transport, Smart Cities, energy, and the public sector, Zeina specializes in driving Corporate Planning, Commercial Due Diligence, Growth Strategy, Sales Improvement, Operations Excellence and Cost Reduction in the Middle East, Europe, Southeast Asia and the USA.
As ITS Arab Secretary General, Zeina has contributed to standards development of transport systems worldwide for ISO and managed the delivery of several advisory services contracts to public sector.
After 7 years working in the USA with KPMG, Parsons and Aecom, in 2005 Zeina moved to London to support international projects including leading international consultancy work with Arcadis for M25 Design-Build Integral Demand Management. Zeina also provided support to financial design of the New Zealand Toll System project with Deloitte, supported Booz & Co in the PMO for Abu Dhabi DOT and played a major role in shaping the future of transport for Dubai Government.
Zeina has a BSc in Civil Engineering from American University of Beirut, MSc in Transportation Engineering from University of Texas at Austin, MBA from the University of Chicago. She is a Professional Engineer licensed in the USA. Zeina is currently pursuing her PhD in Autonomous Vehicle at the University of Southampton.
Zeina founded Innova Consulting Ltd (ICL) in London in 2007, specialising in intelligent transport systems (ITS) engineering and consulting services for the public and private sectors. In 2005 she co-founded ITS-Arab, a not-for-profit organisation dedicated to promoting knowledge transfer and partnership between transport professionals in MENA region. As ITS Arab Secretary General, Zeina plays an active role on Middle East networks focusing on smart city & sustainable mobility initiatives.
Zeina was the chair of the International Organization for Standardization (ISO) Technical Working Group TC204 WG1 on ITS Systems Architecture, contributing to standards development of transport systems. Zeina served as Director on the Board of Women in Transportation (WTS) in the USA.
Zeina is a regular speaker at international conferences, as well as a contributor to both business and industry press.