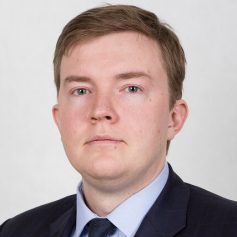 Roman Latypov
First Deputy CEO on Strategic Development and Client Work
,
Moscow Metro
M. Latypov graduated from RANEPA and the University of Bedfordshire with the major in Business Management (extra courses: «Payment Technologies in E-Commerce and Finances», «Big Data Analysis» MIT (USA). Between 2010 and 2015, M. Latypov worked in the private sector, where he was in charge of business analytics and projects related to transport development in cooperation with Moscow Government. In 2015, he entered Moscow Metro as Deputy Head for Strategic Development and Investments. In 2016, he was appointed as First Deputy Head for Strategic Development and Client Management.
In Moscow Metro, M. Latypov is in charge of:
– strategic development
– investment planning and control
– ticketing system development
– passenger services
– Moscow Central Circle development and operation
– Moscow Central Diameters project
– commercial revenues
– property interests and land issues
– public relations and international cooperation
M. Latypov has about 6,000 employees under his command.